Winners of DesignTalent
Since 2013, DesignTalent has been a part of the Danish Entrepreneurship Award. Here you can see and read about the previous DesignTalent winners. What the winners have in common is that they have managed to create designs which are innovative and well thought-through both in relation to the design's potential for growth on the market and its aesthetic expression.
DesignTalent 2017: Ghazaleh Akhavan and Michael Molver Nissen

Ghazaleh Akhavan and Michael Molver Nissen won in 2017 with their ComposTech - a high-tech kitchen aid which reduces food waste. The machine converts food waste to fertilisation in less than 48 hours and the appliance has a simple and modern look so it fits into Scandinavian kitchens. Ghazaleh and Michael are both graduated from Design School Kolding.
DesignTalent 2015: Emil Lagoni Valbak

Emil Lagoni Valbak with his winning design - a multifunctional sofa which fits right into the small modern city home. Emil graduated from The Royal Danish Academy of Fine Arts Schools of Architecture, Design and Conservation.
DesignTalent 2014: Anker Bak, Ankerspoint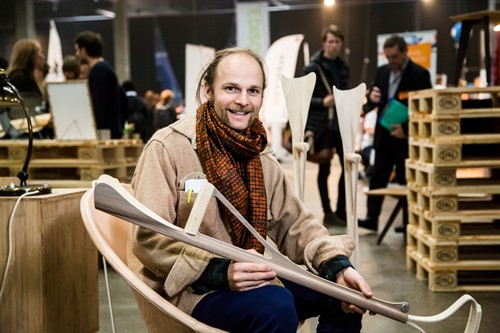 Anker Bak with his winning design.
"To me it is never about the product but about why I am creating the product! I am not going to be a better designer by winning but I get the confidence to go against the flow and believe that it is the right thing I am doing. So because of the judges' engagement and the fact that I won DesignTalent 2014 and the attention that has given I fight and believe in my design and a new direction for Danish design."
Anker Bak, Ankerspoint, winner of DesignTalent 2014. Anker graduated from TEKO Design & Business.
DesignTalent 2013: Martin Christensen, Machvaerk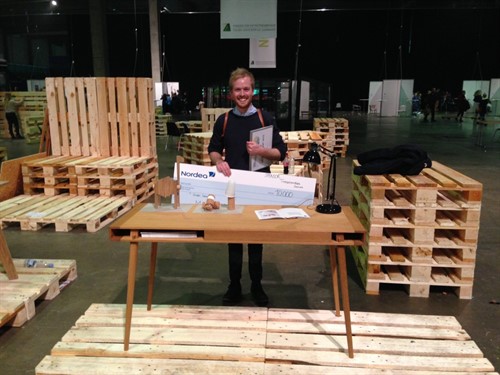 Martin Christensen with his winning design. 
"My participation in the Danish Entrepreneurship Award has given me an understanding of the importance of being able to convert your idea into a viable product. We creative heads must become good at utilizing the full potential in a good idea and recreate it to something not only beautiful and functional but also into a good business!"
Martin D. Christensen, Machvaerk, winner of DesignTalent 2013. Martin graduated from Aarhus School of Architecture.