Former DesignTalent contestant signs contract of one million DKK with Dutch company
Malte Kidde Skov participated in DesignTalent in 2015 with his design Opstalt OP1. Two years later, Opstalt OP1 is part of the selection of products at Vogel's – one of the world's most leading companies in accessories for televisions.
"I just want to say thank you for everything. You took part in kick-starting my company OPSTALT", Malte writes in a message to the team behind Danish Entrepreneurship Award.
In the beginning of September 2017, it was publicly announced that Malte Kidde Skov has signed a contract of one million DKK with the Dutch company Vogel's. Malte participated in the DesignTalent competition in 2015, which is held each year at Danish Entrepreneurship Award. DesignTalent gives an opportunity for design students and recently educated designers to show their design in front of 7,000 people – among these are competent business people and judges within the design world. Malte participated in the competition with his design Opstalt OP1, and this design is now to be found among the products on Vogel's' website.
You do not have to win in order to succeed
Malte did not win the DesignTalent competition, but that did not stop the young designer who finished his education at Aarhus School of Architecture.
"It is unbelievable to think of the fact that I was standing there two years ago and not winning, and today I have a one million DKK contract with the biggest company within accessories for televisions in the world. If I had not been nominated to participate in the DesignTalent competition, I never would have made a physical prototype of my design", Malte says in his message.
Thus, DesignTalent kick-started Malte's career, and he has had a lot of success since then. He also took part in one of the biggest electronics fairs in the world, IFA, which was held in Berlin from September 1st to September 6th 2017 where he also received a lot of recognition for his design.
"The response was tremendous. We are delivering to the whole world this year, and big furniture producers are beginning to look in my direction", Malte says about his experience at the IFA-fair.
You can read more about Malte's partnership with Vogel's here.
Danish Entrepreneurship Award will take place November 16th 2017 in Fredericia, and DesignTalent will be held at this event. If you want to learn more about the competition, read more here.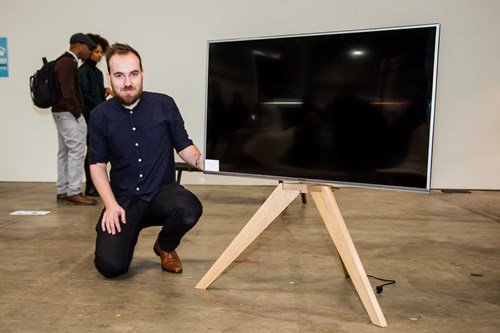 Malte Kidde Skov with his design, Opstalt OP1, at DesignTalent 2015